Maria Wa Kitaa
actress
Yasmeen Saeidi
has finally addressed allegations that she is a millionaire at the tender age of 21 years. Who says all rumours have to be negative? I mean, who wouldn't like to have such awesome rumours about themselves spread about? Given all the gossip that bloggers and haters could have shared about Maria Wa Kitaa, they chose to make rumours about her success... So jealous!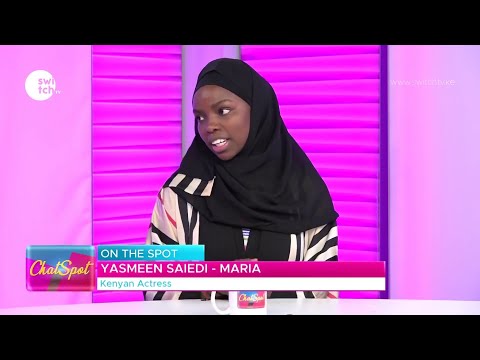 The Maria Wa Kitaa actress has been linked to a fortune that Nana Owiti felt she had to speak about. According to reports circulating around and about, is sitting on a net worth north of Ksh 10 million and we all would like to know how she managed that at her young age. In a country where less than 10% earn over Ksh 100,000 this is what we have come to find out about Maria Wa Kitaa?!
Wooh chile
, I think I need some bundles!
Nana Owiti
: I was reading something
nikaona ukona
net worth of uh... Ksh 15 million... 15 million Maria aka Yasmeen...
Hii pesa
, how does it feel to be a millionaire at such a tender age man?
Also read:
A Love So Pure: King Kaka And Nana Owiti
"Okay, sawa I'd say, unajua kuna mablogs, mi ninaweza amkaleo pia, nianzishe blog yangu. So many things out there zinasema hey, Yasmeen amefanya hivi ama Yasmeen amefanya hivi but hiyo ya pesa, I would say I am into thatInshallah, siku moja all will be well. Networth? Yeah, mimi ninafanya kazi. Na nipata pesa but siwezi ambia watu ati exact amount. What they don't know the enemy cannot touch."
I mean, talk about playing it coy... Or maybe I am reading too much into her playing her cards close to her chest? But at 21 years of age, what would I do with fifteen million Kenya shillings?
I would be buying land left right and centre. That is after I had updated my wardrobe and shoe game. I would also probably move out of my Roysambu bedsitter.
We can only hope that Yasmeen realizes how to use her money if indeed she had it at those levels. But I doubt it. I think she is on her grind and given that Yasmeen is from Kibra, one of the toughest neighbourhoods in Nairobi... Maybe, her peers saw her new life and assumed she was making millions?
Whatever the case may be, the conversation went on. She discussed her dating life and she discussed the other facets of her life that do not touch on her acting grind.
"First of all, I love eating. I am a foodie. Second, ninapenda kulala na kuongea. If I am not sleeping, ninaongea. If am not talking, I am sleeping. I am also a brand ambassador. Actually, with Maria, ilikuja na vitu nyingi. So many blessings yenye ninashukuru mungu. Being a public figure, of course ninainfluence. I mean, you have the numbers, you can reach so many people. So that's how I got the brand ambassadorship. Actually, hiyo brand ambassador its to make awareness of the product sindio?"
When it comes to Kenya's young ladies, it is all about the hustle and grind! this is such a beautiful story to listen to. An empowering narrative.
For more hot entertainment content,
click here
.