Ringtone Apoko
shocked many fans this week when he came out to reveal that
Bahati is depressed and attempted suicide
by drinking poison.
Read more:
Drama As Samidoh And Edday Vacation Separately
Bahati and his wife Diana have been missing online for some time now and their whereabouts have raised a lot of concerns from their followers. Bahati stopped posting after he lost his Mathare parliamentary bid in August while Diana spoke last after her baby shower over two weeks ago.
Ringtone Apoko talked to Mungai Eve on Bahati's whereabouts, according to a video posted by Nairobi gossip, Ringtone Apoko revealed that Bahati has been suicidal about losing the Mathare parliamentary seat. "Bahati anapitia depression, Bahati hataki kukubali alipoteza kiti, mara kama mbili Diana amenipigia kuniambia Bahati anataka kukunywa sumu, nikaenda nikamsaidia." He finished by asking Kenyans to pray for the
Wa Nani
singer.
Read more:
Mkurugenzi Confirms Death Of Fan By Alleged Suicide
But Bahati and Diana fans were not happy with Ringtone's flippant tone, with many thinking that he was dissing the couple and that he should mind his own business.
Ringtone and Bahati have a history of friendly rivalry ever since their Gospel industry days. They have thrown shots back and forth on many occasion. Here's a history of their beef.
Read more:
2022 Most Wanted Celebrity Deadbeats
2019 - Ringtone calls out Bahati's secular songs
Ringtone urged Bahati to stop referring to himself as a Gospel artiste after he released a string of secular hit songs and also sued a couple of his own producers. "Dear Bahati, your recent chain of events show that you were prepared for your fall from grace," he wrote in a social media post, adding, "How can a big gospel artist take an upcoming young gospel artist to court?"
"You told her aende ajipige mafinga," "You used to live with Alex Mathenge and later called police on him and he was locked up in police cells," Ringtone continued. "Now you are Abusing G-Money with unprintable words even telling him that he is gay. People are tired of the your actions that make Christianity, Jesus and God look bad."
Read more:
Corazon Thinks Frankie Is Ugly— And Dumb
2020 - Ringtone disses Diana's influence on Bahati
Ringtone comes out to tell off Bahati for his choice to marry the worldly Diana Marua. He says that she took away his focus from God and his ministry.
"I kept on saying that Bahati can't sing. I warned him when he started wearing dresses and dying his hair. God cannot have him represent Him in that image. Besides, I think Bahati made a mistake when he married Diana, a woman who does not care even posting a single Bible scripture. All she does is teach Bahati how to kiss and caress. That is all she makes him post online. She is only interested in showing people that she is a slay. At least she should have been God's slay…If she loved God, this relationship would work but I don't think it is working for them."
Read more:
Khaligraph Exposes People Using Short Cuts To Fame
2021 - Bahati releases diss song, Ringtone responds
Bahati addresses Ringtone in a rap song called Fikra Za Bahati. He tells Ringtone that music is not all about gossip only and that he owns him when it comes to making hits.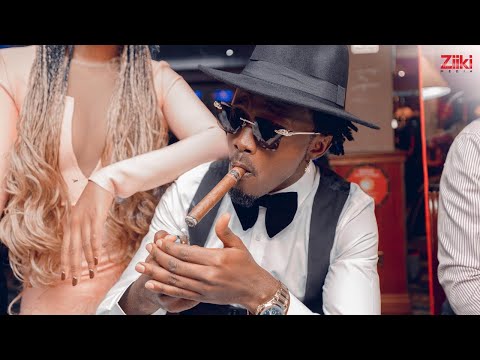 Read more:
Huddah's Book Will "Spill So Much Tea"
Ringtone responds by lashing out and calling Bahati a drug addict. "FROM A GOSPEL SINGER TO A DRAGS ADDICT 🙆‍♂️🙆‍♂️ ANYWAYS AM IN CONTROL OF GOSPEL MUSIC 🎶 EVERYTHING IS OK WE ARE RELEASE GOSPEL HITS AFTER HITS...THOSE WHO ARE IN LOVE WITH GOD LETS CONTINUE 🙏🙏🙏"