There has always been a cold war between Oga Obinna and self-proclaimed president of comedy Eric Omondi, and today Obinna revived that beef by mimicking Eric in their morning Kiss show with Kamene.
So Obinna showed up today in studio dressed like Eric Omondi and was all over mocking how the comedian speaks with Kamene cheering him .
The beef between Eric and the morning show presenters escalated a few months ago after Obinna and Kamene criticized Eric for discouraging local talents through his posts and his cross-dressing habits.
Read more:
Tanasha Teases A Glimpse Of Her Figure In Sheer Outfit
Eric then recorded a stern Will Smith-like message addressed to the morning show hosts asking them to keep his name out of their mouths.
Kamene and Oga discussed Eric's recent dramas involving him taking on fully his cross-dressing female persona of divalicious, which has drawn wild reactions online; including
questions about Eric's sexuality
.
Read more:
This Is Why Huddah Won't Be Voting
The recorded post released by Eric on his Instagram was captioned: ""I have more MONEY than you, I have more FOLLOWERS than you, I have more local shows than you!!! I have been to 9 Countries in one and a half Months and you have never left this Country. DONT EVER ADDRESS ME IDIOTS!!!!"
Read more:
Prezzo Already Knows Who Will Be President
Oga Obinna posted his own response suggesting that Eric is desperate and has nothing to show for his long career other than his cross-dressing pics and social media followers.
"14 years you guy? With what exactly to show from it? Nudes?? Btw kitu umenishinda nayo ni followers wa IG pekee yake."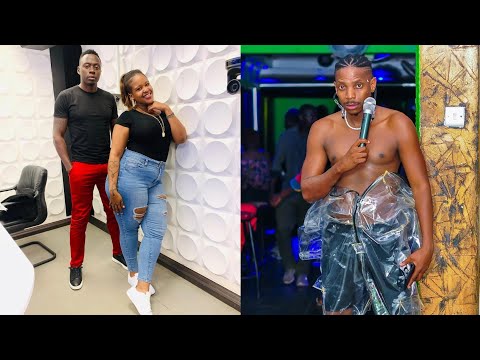 Read more:
Sonie Exposes The Ugly Side Of Mulamwah
Speaking to Mungai Eve on Tuesday, August 9, Obinna stated that although he had no beef with Omondi, he had to address issues that had been raised by the comedian.
"First of all, I have no beef with Eric Omondi whatsoever. There is nothing we are fighting over, the cake is too big. The race is against poverty and not each other," Obinna started off.
The Kiss 100 radio presenter then dived into the issues that he wanted to address. "Having said that now let me address this shawty for comedy, shawty for the bikini," Obinna said with a smile across his face.
He was referring to the
Divalicious character of Eric Omondi
who wore dresses and put on makeup.
"There is a difference between your brand and mine. I'm a niche brand, you are a mass market. I appeal to a certain group of individuals, intellectuals. You appeal to everyone else," Obinna stated.
"You can't see me everywhere because that's my brand. Your brand is readily available. If you go to town, anywhere. Enda hata River road, you just see Eric Omondi akipita akienda somewhere," he noted.
"We have different agendas, so you cannot compare the two brands," Obinna reported.
Obinna admitted that although Eric Omondi had more followers than him, that should not be used to compare him to 'Divalicious'.
"Yes, you have more followers than me, but that is the only thing you have that I don't have. Why? Because you had a head-start," Obinna divulged.