Barely days after he announced his breakup with his long time girlfriend Sonnie, Mulamwah was spotted in a club cuddling and kissing wannabe teenage socialite Shakilla.
She is the same girl
who claimed that Khaligraph Jones, Victor Wanyama, Ringtone, and other celebrities had paid her for sex.
The video has left netizens wondering to what extent celebs can go to chase for attention.
When he announced the breakup, he crafted a lengthy message that left many reeling in tears, begging the couple to stay together.
"It wasn't an easy decision to make . Am sorry guys , what was to make me happy makes me more sad, more enemies than friends,too much negativity,trolls. I wasn't here for fame and bad blood but for fun. Shukran sana kwa the support from the fans and everyone else who made it a success," he said.
This time around, the video clearly shows that they are trying all they can to trend. It wasn't just a random, short video. It looks staged and rather calculated.
Here's the video we are talking about: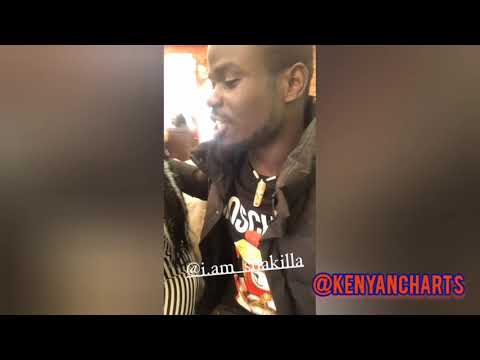 As for Sonnie, that girl has done a lot. She sacrificed so much to support Mulamwah until he got to where he is. Sonnie even had a miscarriage but amidst all the drama and hard times, she still chose to be strong for Mulamwah.
Also read:
"Kichwa Kama Ile Kobole Kubwa" Fans Troll Mulamwah Again
The nurse-turned comedian seems to have linked up with the wrong people or purposely dumped his girlfriend because, our sources say, that he recently got a big contract with big money that's why he decided to look for 'someone better'.