Former Kiss Fm
presenter Kamene Goro
has been asked by her fans to reunite with her former co-host Andrew Kibe and come up with one fire show as the duo was epic on the radio. This plea has come after Kamene shared a throwback video of her and Kibe on her Youtube back in the days when they used to host the morning show at Kiss Fm.
The duo fell out after Kibe left the radio and went to live in the United States. He would occasionally blast Kamene on his Youtube channel, something Kamene was not very happy with.
Also read:
Kamene Goro Claps Back After Fan Tells Her To Get Married Because She's Old
Talking about their fallout, Kamene said that Kibe had thought that they would have left the station together, and when she didn't, he started trolling her and spreading false information about her.
However, she has made it clear that there is no beef between them and that she has never reached out to him. Kamene noted after experiencing her other co-hosts, she realized that what she had with kibe was unhealthy.
"Kibe was my friend, when he left, I think he had an expectation that we would leave together, it didn't settle with him that my life took a different turn, I feel like what he does is extremely distasteful, sikumkosea, yeye ndo ameanza kunikosea." An irritated Kamene said.

Kibe had earlier taken advantage of Kamene leaving saying that she is lazy. He has always been bashing her and exposing details about her personal life after their ugly fallout.
Talking about lying about sickness to skip her job, Kamene has refuted the claims saying that towards the end of last year, she was sick, and on the days, she skipped work she had followed protocol.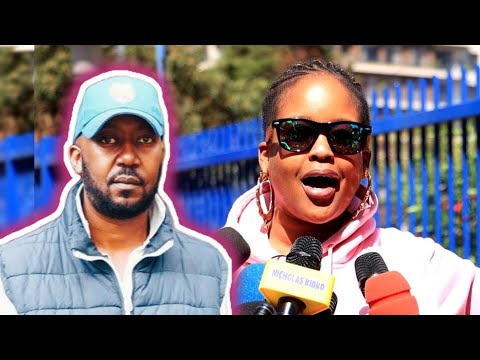 Speaking during an interview with Dr Ofweneke, Kamene stated that she tried to keep their friendship alive after they stopped working together but she could not because of his constant attacks.
"I don't miss Kibe. Recently, I tried to maintain our friendship after we stopped working together but he just became really toxic of late.
"He has been out of the country and I have no idea what is going on. When he started attacking me and dragging my name into his mess. I was like, yoh! I am just here minding my business," Kamene explained.
Also read:
Andrew Kibe Explains Why He Will Never Get Back On Radio (Video)
Asked if she has beef with Kibe, the media personality revealed they had no bad blood and she even wished him a happy birthday last year.
"Beef? Nothing, I personally had no issue with him. The last time we spoke was on his birthday to wish him. I told him to stop putting my name on his mess but he did not stop, so, I blocked him," Kamene averred.
Watch the video below.